Plastics solutions for industry
In our more than 25 years of experience, we have seen the constant evolution undergone by polymers, which has led to their growing use in applications with high engineering requirements.
Thanks to their lightness, tribological properties and their ease of use in manufacture, polymers have performed a key role in the improvement of production efficiency, safety, and quality in different sectors. The use of thermoplastics and composites is increasing, and innumerable metal components are being replaced by new polymers especially designed for meeting the requirements.
Manufacture of parts for the food industry
In the food industry, food safety is one of the most sensitive aspects of greatest concern to manufacturers, public bodies, and consumers. Just in Europe, 3000 recall campaigns occur annually due to contaminated or poorly labelled products.
The manufacturers of components for the food sector need thermoplastics that fulfil the requirements and demands for materials intended for food contact.
We, as distributors of Mitsubishi Chemical Advanced Materials, have the widest range of polymers approved for food contact in the entire market.
Solutions for food applications
From among the more than 90 different formulations we have available, we offer high-performance engineering plastics that are suitable for food contact, and that provide numerous benefits in all production areas.
In a sector as sensitive as the food industry, it is essential to fulfil the required safety and traceability measures. For this reason, we offer polymers that comply with the FDA (Food and Drug Administration) and the UE 10/2011 standards.
To improve and guarantee the safety of food processing, the demand for components that use high-performance detectable polymers continues to increase. At Bronymec, we have the VMX, range that provides triple detectability (visual, metal, x-ray), thus improving these capabilities. Moreover, this range of materials is resistant not only to high temperatures, but to aggressive chemical products that are optimal for cleaning and disinfection:
Resistant materials in the food industry
Manufacture of parts for the railway industry
Our materials range from engineering plastics up to very high-performance polymers that resist temperatures above 425°C.
The benefits of our polymers are as follows:
High resistance to impact and stiffness.
Resistance to low and high temperatures, and to corrosion.
Excellent resistance to wear.
Weight, noise, and cost reduction.
Good sliding properties.
High electrical/thermal insulation capacity.
Compliance with national and regional standards.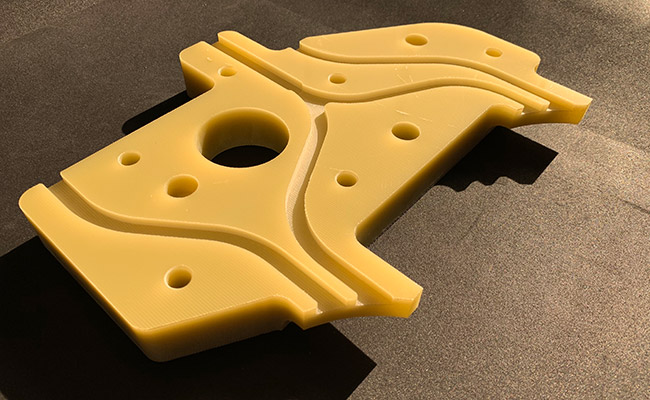 Solutions for railway applications
As we are distributors of Mitsubishi Chemical Advanced Materials, we offer a portfolio of engineering plastics specifically for the railway sector and special modified grades of fire-resistant materials that meet standard DIN EN 45545-2.
Glastech: Materials specially designed for the railway sector.
At Bronymec, we have extended our range of plastic and composite materials that are especially designed for the railway sector. All the materials of the Glastech family are tested and meet different requirements of standard EN 45545-2.
Manufacture of parts for the aerospace industry
If there is sector that is especially sensitive to finding lighter components that allow lower energy consumption, it is the aerospace sector. Both the mechanical strength to weight ratio, and the resistance to wear and different chemical agents, make advanced plastics an increasingly demanded solution for the aeronautical and space industries.
Solutions for aerospace applications
There is large number of examples of the use of polymers for components in civil aviation and defence vehicles, satellites and, even, interplanetary vehicles.
They are starting to have a long track record in approved applications, for example, in landing gear parts, seals and bushes and hydraulic systems, solar panel deployment systems and cable insulation blocks.
Some advantages of our range of polymers for the aerospace sector:
Lighter components that allow a higher load capacity, at the same time as improving fuel efficiency.
No galvanic corrosion when in contact with carbon fibre composites.
Reduce fiction with little or no lubrication on wear surfaces.
High resistance to wear with respect to other polymers.
Thermal insulation of essential electronic components and other structures.
Chemical resistance to all common aircraft fluids.
Economic solutions for replacing aluminium, titanium, and other metals.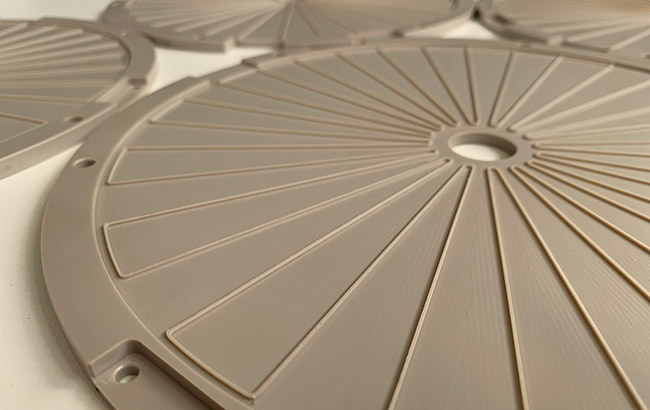 Manufacture of parts for the electrical and electronics sectors
Our parts manufactured in thermoplastics and composites have been used in electrical and electronic applications for more than 25 years, thanks especially to their high insulating capacity.
Transformers, electric motors, switching systems and high voltage converters are just some small examples of equipment where we have long experience.
The growing range of materials with electrical behaviour such as insulators, conductors and antistatic elements allows the design of more compact and efficient equipment.
Our knowledge is available to customers for the selection of the appropriate material for electrical and electronic applications.
CONTACT
We select the best option for each application